ONLY OUR GUESTS GET AWAY!
Serious anglers and rookies alike are thrilled by the abundance of fish in our local waters, including trophy Pike, Walleye, Musky, Large and Smallmouth Bass. Okay, we can't guarantee that the "big one" won't get way, but we're sure you'll get hooked on the experience. Resorts of Ontario "BIG FISH" contest winners for 14 consecutive Years.
Pleasant Cove Resort offers some of the best fishing in Ontario. We pride ourselves on being one of the nicest fishing resorts on Georgian Bay! From our resort on Georgian Bay you can go fishing for a number of different species of fish, including Bass, Walleye, Muskie, Trout, Pike and more… we've got them all! Come on up for a weekend fishing trip with friends or family and leave with the memory of a truly wonderful experience.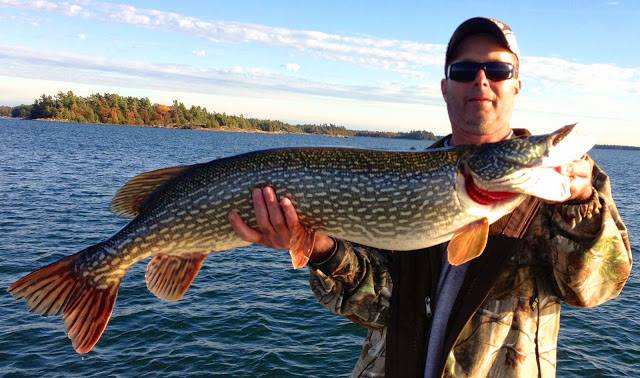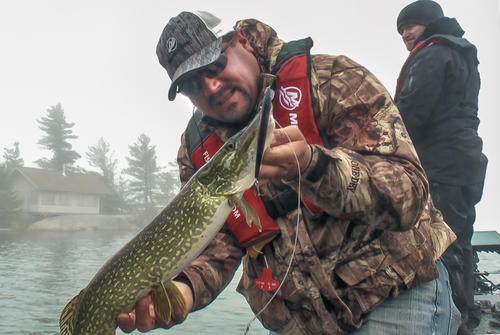 FISH WHERE THE PRO'S FISH!
Bob Izumi from TV's Real Fishing Show "Pleasant Cove offers excellent facilities and amenities for all ages and a great variety of fish"
Ontario Out of Doors Magazine writer Lonnie King "Some of your greatest fishing right at your backdoor"
Pete Bowman and Steve Niedzwiecki from TV's Fish'n Canada Show – "Pleasant Cove is a fishermans paradise"… "Great Resort… the area is loaded with fish"
https://www.northernontario.travel/fishing/northern-pike-fishing-in-pointe-au-baril
BIG FISH
"The Master Angler"
We had a great week Bruce, the accommodations were great, and the guys who hadn't been to your place yet were really impressed. Even though I complained about the weather all week, it was my best week ever fish production-wise. Bob, my brother-in-law Joe, and myself totaled 273 fish. As usual, Bob was the master angler. He caught a 21″ smallmouth, a 44″ Pike, and to cap it off, he caught 3 muskies in ONE DAY!
Thanks as always, we will be seeing you again this fall!
Dave Fish
"Greetings from Toronto"
We miss the beauty of Georgian Bay, 30,000 Islands; the scenery and your wonderful Resort. I caught a smallmouth bass one evening just off the dock using a silver and gold Cotton Cordel rattler. It was one for the biggest smallies I've ever caught weighing in at 3.5 lbs. (See photo in recent catches photo gallery). You don't have to go far to catch nice size fish in Pointe au Baril.
Thanks for a great week.
Art from Toronto, Ontario
"Annual Family Fishing Trip"
My father and I spent many wonderful times travelling all over Ontario trying to find that perfect lodge for spending our annual fishing trips together. Then we stumbled upon Pleasant Cove Resort on Georgian Bay. 10 years later my annual fishing trip has been passed down to include my son and daughter. The fishing and accommodations here have spoiled them to the point where they won't consider trying other lodges. I guess catching our limit in Walleye every single time we go out to fish might be the reason. Huge Pike, a 46 inch Muskie and the biggest Bass I have ever caught in my life all came from the waters around Pleasant Cove. The cabins are perfectly equipped and the boats and staff are top notch. By the end of the day we are all so tired from all that fishing that we hardly have any energy left to play tennis, basketball, swim or sauna. After our BBQ meal or fish fry we relax and look forward to more of the same tomorrow. Make this Lodge your annual trip and you won't be disappointed.
Roger Cafferata, Aurora Ontario
"Thirty fish in three days"
Thank you pleasant cove resort for another great fishing trip.  Your accommodations and service's were very much appreciated.   Thanks for the tip Blair as you can see it worked out.
Thirty fish in three days between the two us included 2 just under 20lbs pikes and a few in the 12 to 15 lb size. Not to be forgotten were two 5lb smallies. My friends in the other boat also had great time and caught a lot of fish.
Tim Murphy, Missisauga Ontario 2019
Memories last Forever….
Whether you come with family, friends or coworkers, Pleasant Cove is the place where big fish stories and lasting memories really do happen. These stories come from people of all ages with one common goal, to catch trophy Pike, Walleye, Muskie and Big Large and Small Mouth Bass…. while relaxing and having fun in the great outdoors.
Back to top